anyTEXT was founded in 2001 by Aviva Scher-Maayani and Anne Eliane Goldstein, following decades of combined experience in the art and expertise of translations.
Together they sought to address the diverse needs of the many companies, individuals and organizations, communicating and competing in a multi-lingual market.
Over the years the business has grown, but the principles and dedication remain the same – to connect people with different languages and cultures in a clear, coherent and unified manner.
Each project, big or small, gets highly individualized attention from day one, with the explicit goal of understanding your business, your needs, and the message you want to get across, tailored to each local market with its linguistic subtleties.
No matter the size of your project, anyTEXT guarantees 100% commitment to deliver the best end results from its dedicated staff, relying on deep industry specific knowledge, advanced tools, and an uncompromising willingness to give you the service you deserve.
Covering more than 30 languages, handled by highly trained native speakers, working with anyTEXT assures that your project is always conveyed to the right audience, with the right words, tone and style, opening doors for your international success.
Meet the Founders: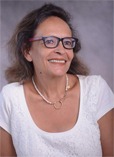 Anne Eliane Goldstein
Anne was born in Algeria, grew up in Paris, and has lived in Israel since 1970. She studied philosophy and literature at the University of Haifa, translations at Bar Ilan University, and is a member of the Israel Translators Association.
Over the past 25 years she has built impressive expertise translating and implementing localization projects across a wide range of realms including:
Literature

Jewish & religious texts

Banking

Tourism

Real estate

Law

Medicine

Advertising

Cosmetics

Non-profit sector
She has also managed numerous social projects for the World Organization of Jews from North Africa, and served as both the Director of the Tel Aviv branch of UNIFAN (Association from Immigrants from France and North Africa), and the Director of France's Chamber of Commerce in Israel.
Aviva Scher-Maayani
Born in France, Aviva has lived in Israel since 1977. A member of the Israel Translators Association and certified by the Consulate of France in Tel Aviv, she completed graduate studies in French literature at the Hebrew University of Jerusalem, and received a diploma in translation and interpreting from Bar Ilan University.
In addition to managing multilingual projects, her professional experience over the past 30 years includes simultaneous translation for public and private agencies such as:
Jewish Agency

World Zionist Organization

Yad Vashem

Ministry of Defense

WIZO

French Embassy

French Institute

European Union

Red Cross

Tel Aviv University

Bar Ilan University

Motorola Gallup Institute
As well as written translations of
She is also active in teaching translation at Bar Ilan University and mentoring young translators.